Social Media
Marketing Masterclass

Why Social Media Marketing Masterclass?
This program is under the PEMULIH (Penjana Kerjaya 3.0) initiative and aims to enhance your employee's abilities and skills in digital marketing and social media. 
Under this program, you can involve their new employees in 5 days of fully claimable Digital Marketing training if your new employee meets the criteria. 
The program is designed based on the most popular platforms to do promotion and employees will be given hands-on practice during the program.
Your new employee has to be…
ONE: Approved under the Penjana Kerjaya 3.0 Hiring Incentive less than 90 days from training date
TWO: Have not attended other training under Penjana Kerjaya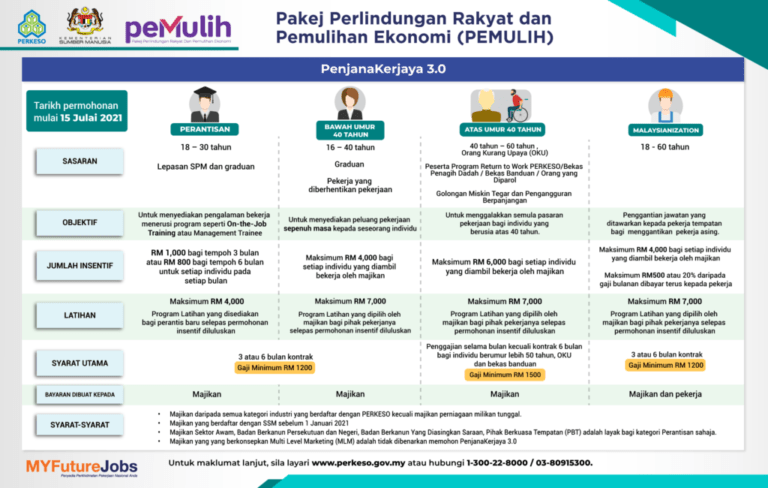 Have not registered your new employee for the Hiring Incentive? Apply while they are still eligible
What will my Employee Learn?
DAY 1 Overview of Digital Marketing
To understand local social media marketing statistic and utilize tools to get more traffic visit websites, stores & marketplace
( Facebook, Instagram, Tiktok, SEO )
DAY 2 Facebook & Instagram Business Marketing
How to use Facebook to promote product or services
Facebook setting by Facebook Ads Manager
Learn how to setup Facebook's Live and it's tools
Facebook Business Account
Design
Copywriting
Social Media Policy
To build network and interact with customers through TikTok live. Through TikTok live, you can promote your products or service.
DAY 5 Search Engine Optimization
Learn how's Google works and choose website to get higher ranking in search results.
Alen is an expert in Strategic Digital Marketing, covering all forms of digital media from niche markets to global online advertising campaigns. Our team is now serving international clients from the United States, Singapore, Philippines, Yangon, and even China.
He has reached a renowned level of brand recognition through his collaboration and co-branding endeavours with several NGOs and private corporations to attain ambitious business goals and brand publicity, all while helping the society through corporate social responsibility.
He first established Evo Marketing Sdn Bhd in the year 2012 in Penang, Malaysia. .
Next, he set up a Digital Marketing Agency in Penang & KL to help clients connect with digital audiences utilising various strategies including social media, search engine optimisation and marketing, website design and website development.
The training and seminars conducted by Evo are perpetual and consistent, churning out about 50 new digital marketing savvy personnel per batch per month.
Over four years of "Facebook For Business" & "Digital Marketing Made Simple" seminars and training classes, we have produced about 2400 new entrepreneurs and e-commerce specialists.
Mr. Alen has voluntarily provided free digital marketing training to single parents, old folks and NGO association members.
He was interviewed by the China Press in 2017 as an active citizen who cares about Malaysia's economy, by HNN Channel on digital marketing, and has been featured in Nan Yang on e-commerce, Property Queen Magazine on Facebook Strategies For Properties, and even BNI Ideal & Great Magazine in 2017.
Was granted 'Most Outstanding Member of Junior Chamber International Malaysia
2018'.
 Was awarded 'The Rising Entrepreneur Award' by Grandeur International Business
Leave us your contact details and we will reach out to you as soon as posible.
Don't hesitate to contact us if you have any questions
+60 16-432 5651 | info@elev8.com.my